WHAT ARE FEEDING ISSUES AND HOW CAN A FEEDING THERAPIST HELP MY INFANT WITH BOTTLE OR BREAST FEEDING?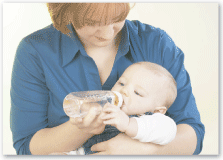 Early feeding can be a difficult task for many infants. Early support and intervention can make a world of difference for the mother and baby. By evaluating the way an infant sucks, how they coordinate swallowing and breathing, and other factors that are influencing their ability to eat, we can make adjustments and provide supports for them. A feeding therapist will evaluate the muscles of the mouth and body, feeding position, bottle/nipple type if applicable, swallowing skills, and many other factors that affect sucking, swallowing, reflux, and distress around feeding.
WHAT DOES A FEEDING/SWALLOWING EVALUATION LOOK LIKE?
During an assessment we evaluate the sensory and muscular systems during play with oral stimulation that does not involve food or eating. The session includes a bit of play, some oral play, and then a "snack." We recommend that you provide foods from home so that your child will be familiar with the foods and demonstrate skills that are consistent with those seen at home.
WHAT ARE SOME SIGNS THAT MY CHILD MIGHT BENEFIT FROM A FEEDING EVALUATION?
Coughing or choking more than 1-2 times per day
Food or liquid coming out the nose
Poor weight gain
Food refusal or turning away (not related to typical toddler refusals)
Fatigue during or after meals
Changes in breathing during meals
Arching or discomfort during or after meals
Changes in the sound of the voice during meals
Meals taking more than 45 minutes
Food remaining in the mouth after meals
Food not being fully chewed prior to swallowing (this may be apparent in their bowel movements)